Mediation Debugger
Display the mediation debugger
Tapdaq's mediation debugger enables you to test your SDK integration. You can specify and test different ad types from each ad network you have integrated to ensure you are receiving ads as expected.
Please note, for the debugger to work you will also need to have input the correct ad network keys on the Tapdaq dashboard.
To display the mediation debugger, add the following into a script:
AdManager.LaunchMediationDebugger ();

Export your build and run your application, you should have a popup appear with a list of networks to test.
Adding Test Devices
To add any test devices, add your device in the Tapdaq Settings Panel: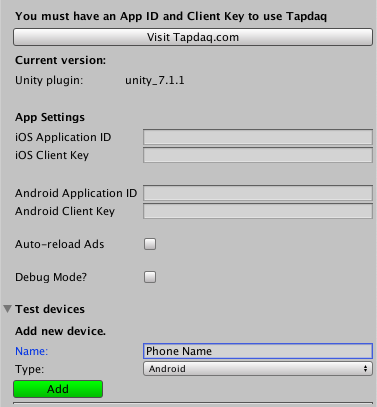 Then add your Device IDs for AdMob and Facebook, like so:

Export your build and run your application, you will now see test ads for AdMob and Facebook.
Retrieving Test Device IDs
Devices ID's can be found in your logs when loading an ad from AdMob and Facebook, they look like this:
// Android AdMob
I/Ads: 

Use

 AdRequest.Builder.addTestDevice(

"4D32C4G30407EPC0EBB847E0E2694ACE"

) 

to

 

get

 

test

 ads 

on

 this device.

// Android Facebook
D/AdSettings: 

Test

 

mode

 device 

hash

: 

441

g39532c1fy296e2840753c9c217b0

// iOS AdMob
<Google> 

To

 

get

 

test

 ads 

on

 this device, 

call

: request.testDevices = @[ @

"d3fsh152gbac80cbcf774dd4520a4696"

 ];

// iOS Facebook
[FBAudienceNetworkLog/FBAdSettings:133 thread:1] Test mode device hash: 0aaea61262f466eedc5efacf191bd33a321e676c

NOTE: When testing Facebook Audience Network, the test device should have the Facebook app installed and logged in
What's next?
Now that you have successfully tested the ad networks that you wish to mediate, what would you like to do next?